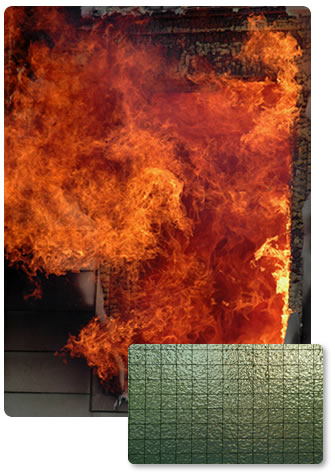 Fire resistant glass is specifically designed to provide a consistent, high level of protection against fire, together with the full range of properties associated with glass. Wholesale Glass produce a wide range of fire glass types, offering increasing levels of protection. Measured in defined time periods (30, 60, 90, 120 and 180 minutes) and in terms of Integrity and Insulation or Integrity only as designated by the European Standards.
Our extensive range starts with traditional and instantly recognisable, monolithic wired glass: easy to handle and stocked in both clear and textured. The range is complimented by the market leading 7.2mm Pyroguard: 3 ply and unwired, offering 30 minute integrity, rated to BS 476 part 20, plus the added benefit of radiation control. The range extends further to cover all aspects of fire resistance in glass, including fully insulated fire glass with performances of 30/30, 60/60, 90/90 , 120/120 and sealed units.
Fire testing has been carried out on all fire resistant products that Wholesale Glass produce, in UK test houses and other European countries. Certificates are available on request.
Typically used for:
Fire doors and fire screens, emergency exits.
Schools, hospitals, offices, commercial premises, industrial premises and transport infrastructure.
Any location where building regulations require a raised level of fire protection.
Fire resistant glass is available from Wholesale Glass, as stock (wired only), or processed, in various types and thicknesses including:
Clear, textured, satin and limited patterns (pyroguard only)