Mar 2010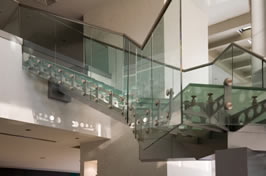 Wholesale glass delivers the goods.
When sales consultant Tony Fisher called regular customer Paragon to arrange delivery of their toughened laminated glass order, Tony was asked if he could delay the scheduled delivery date as 16 fixing bolts had not yet arrived. The glass being supplied was to be the balustrade for a completely new internal staircase that Paragon had installed, but without bolts to fix them in place the project was about to grind to a halt.
Tony asked what was missing and what he could do to help, then following an exchange of e-mails, confirmed that we had virtually identical bolts available from stock. This was welcome news on site and the glass arrived the very next day with the 16 fixing bolts required to install it saving Paragon from a costly delay.
Balustrade bolts and a wide range of glass fittings are available from the trade counter or online.
Oct 2009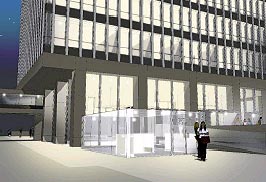 Arts tower refurbishment chooses Swisspacer®.
In December 2007, Sheffield University's Arts Tower announced a major refurbishment of the building's interior as well as a new facade. The 20 storey landmark, originally completed in 1965, was vacated in April 2009 and work started in October on the two year project. The upgrade is estimated to cost around 40 million pounds with 27 million being spent on the re cladding alone.
Wholesale glass are working in partnership with glazing contractors to supply nearly 2000 spandrel panels over an 8 month period to be used in the new facade. With grade II listing status every effort is being made to ensure the external appearance of the building stays true to the original. After rigorous thermal testing 16mm black Swisspacer was chosen for use in the panels, our largest order yet to date totalling 8000m.

SGG Swisspacer is featured in our highest performance IGU's.